Company Announces 320,000+ SF of Class A Distribution Space to be Built at James River Logistics Center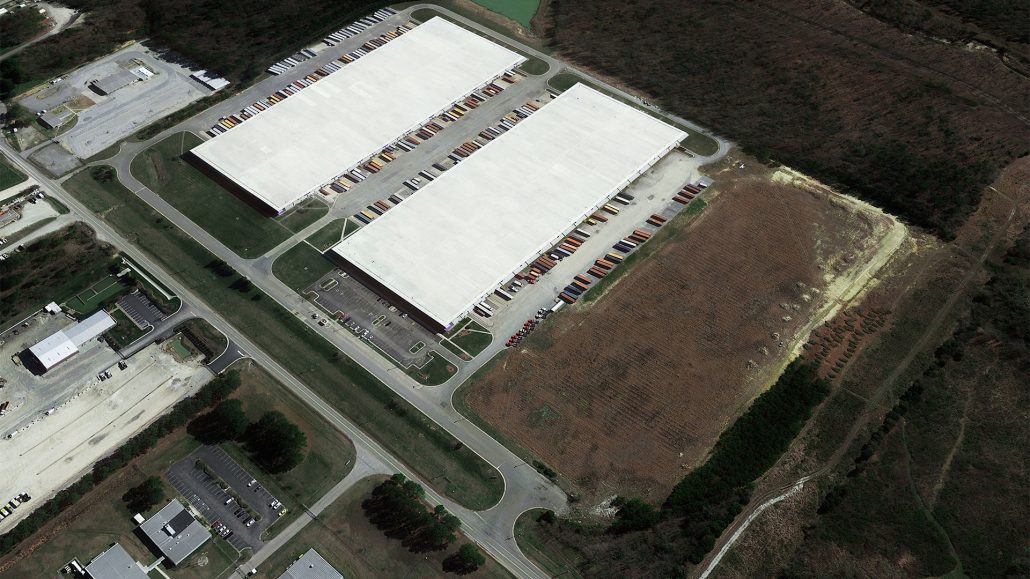 Devon USA has announced plans for a new state-of-the-art warehouse facility at James River Logistics Center, in Chesterfield County, Virginia.
The project, known as "Project Lightning 2" will feature 32' clear ceiling heights, ESFR (early suppression fast response) sprinkler system, 50'x60' column spacing (typ), 8 drive-in doors, and 96 truck-height dock doors (1 per 3,300 sq. ft.). The building also has many "Green" features including white TPO roof, skylights, R-30 roof insulation, and LED lighting.
Parking will be provided for up to 467 automobiles and 64 trailers.  The building could be expanded from 320,853 sq. ft. up to 500,000 sq. ft., and/or additional trailer parking added, depending on the end user's needs.
The planned building is identical in size and scope to the building developed by Devon in 2017 at Enterchange at Northlake in Ashland, and leased by Amazon.com.  That project, known as "Project Lightning" was completed in just 6 months following the start of building construction, and was the largest industrial transaction in the Richmond market last year.
The project is site plan approved, and Devon is working with Ashland-based McKinney & Company to modify the existing plan for re-submission to Chesterfield County, based on the successful "Project Lightning" prototype.
Chesterfield County Economic Development (CCED) is assisting Devon and McKinney in the site plan and permitting processes. CCED will also assist in marketing the new building to potential users when completed.
Located in Board Chair Dorothy Jaeckle's Bermuda District, Mrs. Jaeckle said, "I would like to thank Devon for their continued investment in Chesterfield County. The proposed new development will add the type of product that is currently in short supply in the region. We are anxious to see the building developed so that we can attract the kind of high quality national tenants that typically lease these buildings."
James River Logistics Center is located approximately 12 miles south of Richmond on Bellwood Road, in Chesterfield County, Virginia.  Buildings A and B were completed by Devon USA in 2002 and are 100% leased.  Building C will close out the successful park, which will then be comprised of 1,133,825 sq. ft. of distribution space.
The park has convenient access to I-95 and I-895 via US Route 1.  I-3 zoning (Heavy Industrial) allows most commercial and industrial uses including office, warehouse, and manufacturing. The location is also in a Chesterfield County "Technology Zone", which features a five-year BPOL tax exemption and five-year machinery and tools tax rebate.
Evan Magrill, SIOR and Dean Meyer, SIOR of Cushman & Wakefield | Thalhimer are the exclusive leasing representatives.
About Devon USA
Devon USA  is a commercial property owner, investor and developer with a diverse portfolio of assets in the southeastern and midwestern United States. The company has constructed and/or renovated over 5.6 million sq. ft. of commercial space since 1980, including 1.8 million sq. ft. in Chesterfield County, and currently owns distribution warehouses, multifamily communities, industrial development land, and prime agricultural land. Leasing will be handled by Evan Magrill and Dean Meyer with Cushman & Wakefield | Thalhimer.  www.devonusa.com
About Cushman & Wakefield | Thalhimer
Thalhimer was founded in 1913 and currently has offices in Richmond, Newport News, Virginia Beach, Fredericksburg, Roanoke, Charlottesville, and Lynchburg, VA; and Charleston, Greenville, SC. The company has over 100 broker professionals and employs over 400 associates. Thalhimer represents, on behalf of its clients, a property portfolio of over 48 million leasable square feet, and management of over 20 million square feet of commercial property, and over 6,100 multifamily units. In 2015 Thalhimer completed over 2,100 transactions with a transactional volume over $2 billion.
Thalhimer is the region's leading provider of comprehensive commercial real estate services. The firm offers comprehensive commercial real estate services including corporate services, investment sales, tenant representation, construction management, project management, asset management, and the sale and leasing of office, industrial and retail properties. To learn more, visit www.thalhimer.com or follow @Thalhimer on Twitter.
Independently Owned and Operated / A Member of the Cushman & Wakefield Alliance
About Cushman & Wakefield
Cushman & Wakefield is a leading global real estate services firm that helps clients transform the way people work, shop, and live. Our 45,000 employees in more than 70 countries help occupiers and investors optimize the value of their real estate by combining our global perspective and deep local knowledge with an impressive platform of real estate solutions. Cushman & Wakefield is among the largest commercial real estate services firms with revenue of $6 billion across core services of agency leasing, asset services, capital markets, facility services (C&W Services), global occupier services, investment & asset management (DTZ Investors), project & development services, tenant representation, and valuation & advisory. 2017 marks the 100-year anniversary of the Cushman & Wakefield brand. 100 years of taking our clients' ideas and putting them into action. To learn more, visit www.cushwakecentennial.com, www.cushmanwakefield.com or follow @CushWake on Twitter.
For Further Information Contact:
Edward D. Mitchell
Managing Director
Devon USA LLC
+1 804 643-3187 x 231
emitchell@devonusa.com
http://chesterfieldbusinessnews.com/site/wp-content/uploads/2018/02/James-River-Logistics-copy.jpg
1080
1920
CBN
http://chesterfieldbusinessnews.com/site/wp-content/uploads/2016/01/Chesterfield-Business-News-2600x650.png
CBN
2018-02-14 15:33:32
2018-02-14 15:45:48
Devon USA Plans New State-of-the-Art Warehouse in Chesterfield County