$68+ Million Project Commenced
Charlotte-based Crosland Southeast in partnership with Hartford-based Hutensky Capital Partners, the developer of Stonebridge, and Virginia Beach-based Boyd Homes, the builder and developer of numerous local communities, announce that Boyd Homes has just begun construction of Element at Stonebridge, a 400 unit urban style apartment complex in Stonebridge.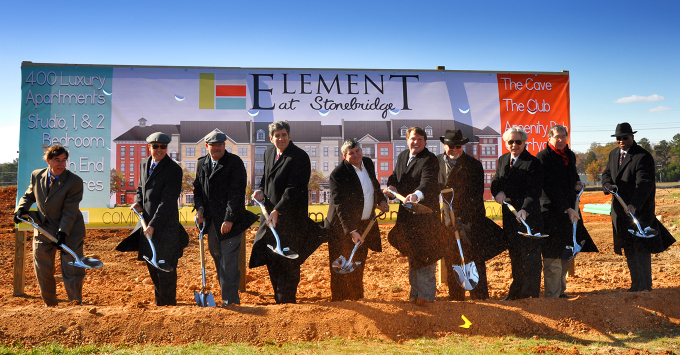 The project will consist of studio, one and two bedroom apartments in four buildings. The buildings will feature onsite amenities and balconies overlooking interior courtyards. The residential community is designed to integrate into the rest of Stonebridge to allow residents to conveniently walk to the retail, entertainment and office uses of the development.
Boyd Homes expects to welcome its first residents in late 2015. A second phase, with 200 additional apartment units, is planned after completion of the first 400 units.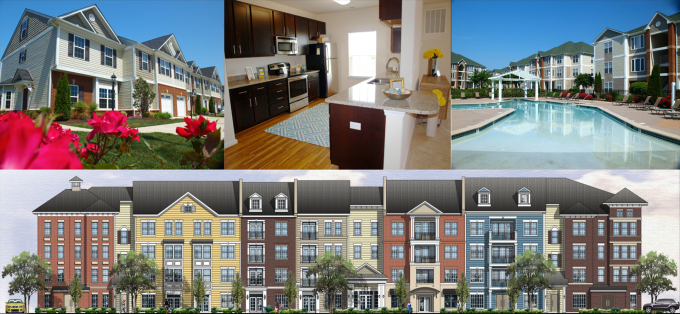 Stonebridge is the redevelopment of the vacant Cloverleaf Mall and is an 83-acre, 400,000-square-foot, $100 million mixed-use project in one of Chesterfield's key retail/business corridors. The project is currently home to Kroger's largest store in the mid-Atlantic region, a 123,600-square-foot Kroger Marketplace and to another 27,000 square feet of retail shops.
Charlotte-based Crosland Southeast is one of the leading real estate development and investments firms in the Southeast United States with offices in Charlotte and Raleigh, NC.
"We are pleased to be working with Boyd Homes to horizontally integrate 600 multifamily residences into the retail and commercial components of Stonebridge. Boyd's innovative design is on the cutting edge which will help differentiate Stonebridge from other mixed and multi-use projects in the marketplace," said James F. Downs, Partner, Crosland Southeast.
Boyd Homes has been building and developing communities in the Mid-Atlantic region and beyond for over 30 years and in the Richmond metropolitan area for almost 15 years. They are well known in the industry as an innovative builder/developer who is dedicated to using appealing exterior designs and floor plans that maximize usable space.
Ken Merner, Director of Development for Boyd Homes, said "As a family-owned business, real people stand behind the quality of our work and service. The success that Boyd Homes has enjoyed over the last thirty years can be attributed in large measure to the dedication of our team to providing a quality product with the service our residents deserve."
"This residential anchor solidifies the redevelopment of a very strategic gateway into Chesterfield County. A mixed use development such as this, where residents can live, work, and play, fits into our county vision. We are very pleased to see both our commercial and residential areas strengthened as we continue to revitalize the Eastern Midlothian corridor," said Dan Gecker, Chesterfield County Midlothian District Supervisor.
Contact:
James Downs, Crosland Southeast, 704.561.5257, JDowns@croslandsoutheast.com
Ken Merner, Boyd Homes, 757.271.0078, kenm@boydhomes.com
http://chesterfieldbusinessnews.com/site/wp-content/uploads/2014/11/2014-11-20-Element-at-Stonebridge-Featured.jpg
225
680
CBN
http://chesterfieldbusinessnews.com/site/wp-content/uploads/2016/01/Chesterfield-Business-News-2600x650.png
CBN
2014-11-20 11:32:29
2014-11-24 11:34:33
New Urban Style Apartment Complex At Stonebridge Breaks Ground